Views: Ladybird Education/ELTpp 'An Introduction to Diversity and Inclusion' webinar – a summary by Lottie Galpin
Lottie Galpin, an ELT Publishing Professionals directory member, gives her views and summarises some of the key points from the recent webinar run by Ladybird Education and ELT Publishing Professionals: An Introduction to Diversity and Inclusion. The webinar was co-presented by Chimaoge Itabor and Kate Heald on 24 November 2020. You can find a summary of the Q&A sessions from the webinar in the Members' area of the ELTpp website.
So who am I and why am I writing this post?
I guess I should probably kick things off by telling you a bit about myself. So, I've been working in ELT for just over 20 years (yikes!) and have been editing and writing for about 12 years. Like many of you, I've become increasingly concerned about the largely homogenous and exclusive 'reality' portrayed in ELT books. My D&I journey started in earnest about two years ago with a couple of great IATEFL talks and a stint working freelance for the British Council. Since then, I've read, watched, listened and thought a lot; have completed a Diversity and Inclusion course, and am starting to work as a Diversity and Inclusion Editor and Consultant. So, to cut a long story short, I know my way around a lot of the terminology and concepts, but I know enough to understand there's always more to learn.
That's why I was both thrilled and intrigued when I heard about this talk. Thrilled to see that a mainstream publisher finally seemed to be taking Diversity and Inclusion seriously, but intrigued to see what they'd be covering and how. Diversity and inclusion is a huge topic and one that's relatively new to ELT materials. I should also add that the cynic in me was curious to see whether this was just going to be an exercise in public box ticking or a genuine commitment to real change not just within their content, but also within their own company.
So what did the talk cover?
I'm glad to say the talk did not disappoint. It did exactly what the title promised and crammed an incredible amount into an hour. It was a whistle stop tour of the foundations of Diversity and Inclusion in ELT publishing, followed by a sobering look at the symbiotic relationship between colonialism and publishing and the way racism permeates the publishing industry and its products. Luckily, the slides that accompanied the talk were really comprehensive so if you missed it, you can still learn a lot just by looking at the Powerpoint presentation which is available on the ELTpp website.
The talk was led by Chimaoge Itabor. Chimaoge is a writer, poet and law graduate, who has volunteered with the Free Representation Unit, and has worked with charities such as Hestia and Refuge as a domestic violence support worker. They have hosted panel events with groups such as BlkSisterhd on abolitionism. They are passionate about community organising, writing, and increasing awareness around white supremacy, colonialism, transphobia and patriarchy. Kate Heald, a publisher at Ladybird Education, also contributed to explain the steps Penguin Random House UK were taking to address diversity and inclusion. 
The first section of the talk was devoted to explaining some key terms, starting with what diversity and inclusion mean and highlighting the groups of people that are considered 'different' or oppressed.  Chimaoge then went on to explore the terms: marginalisation, privilege, tokenism, identity flattening, intersectionality. Given the time constraints, each term was explored in quite a lot of depth and followed by a Q&A session. This meant any attendee should have come away with a good understanding of these terms, but even those with more knowledge may have been surprised by the studies Chimaoge cited and the examples they gave. I know I was.
The next section of the talk looked at the legacy of Colonialism on British Publishing. I have to confess I was woefully ignorant about this and this section gave me lots of food for thought.
The industry, Chimaoge explained, was fundamentally shaped by Britain's colonial expansion into Africa and Asia. The new colonies imported and established English common law, which meant UK publishing could almost completely dominate colonial markets and oppress independent indigenous voices. (Sound familiar, at all?) 
Chimaoge followed this up by giving concrete examples of Colonialism in literature, which really helped to explain some of the terminology used earlier in the talk. For example, in the book  Robinson Crusoe, the title character describes the indigenous people as 'savages'. This use of identity flattening and stereotypical, degrading language, Chimaoge explained, fed western readers' understanding of indigenous Americans, and enslaved Africans. I was really pleased to see that this section looked at Colonialism in Ladybird's own list, such as a 1978 title about Christopher Columbus's 'adventures'. 
The final slide of Chimaoge's section of the presentation looked at colourism. Chimaoge explained how colour had often been linked to morals and features had been erased or incorrectly represented, e.g. hair.
After a brief Q&A, Chimaoge handed over to Kate Heald, who explained what Penguin Random House UK and Ladybird Education are doing to address Diversity and Inclusion. Despite my initial scepticism, these all seem like positive steps which were the result of a considered process driven by people with lived experience. I was really pleased to see that Penguin Random House UK are committing to addressing imbalances across their workforce and by 2025, will have a UK workforce that reflects UK society. It was also encouraging to see that Penguin Random House UK are taking the right kind of steps to improve their authoring and editorial teams and processes, like, finding the right contributors, thorough research, sensitivity reads, building awareness of what to look out for. Most interestingly, Kate addressed the thorny issue of ELT markets and said that Penguin Random House UK are now starting not to take on work which would require them to compromise their own principles. I hope other publishers start to follow suit. 
Final thoughts
This was a great introduction to the foundation of Diversity and Inclusion and I think the information about Colonialism and publishing will have been news to a lot of people. For people new to talking about Diversity and Inclusion, it was useful to explain some of the key terms and concepts needed to understand and discuss the topic, but the additional information also made it useful for people more versed in D&I.
Lottie Galpin has been working in ELT for just over twenty years. She spent 12 years teaching in Taiwan, China, Austria, Spain and the UK, before moving into ELT publishing. She worked in-house for OUP and now works as a Freelance Editor, Writer, and Diversity and Inclusion Editor and Consultant. She is also the founder of the Reflecting Reality Facebook group.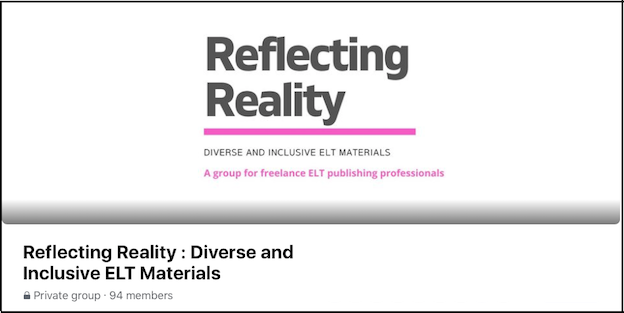 Views: How to get your tech in check – by Jemma Hillyer
Views: How to get your tech in check ­­– by Jemma Hillyer
Jemma Hillyer describes what happened when her peaceful freelance existence was suddenly interrupted by the arrival of a group of co-workers. Here Jemma talks about her IT memories and experience and shares technology resources and tips.
Pressed for time? Scroll to the end of this post to see top tips for managing your IT at home.
A long time ago when I started working for Macmillan ELT, we took our IT support helpdesk crew for granted. They were like The A-Team back in the 1990s. Whenever a screen froze or we didn't know how to solve a technical query, we would punch in a four digit internal number on our phones, a ticket was raised and a member of our IT team would come sprinting up from the basement to fix our problem. In those days, they provided help with installing CD-ROMs, setting up new computers, fixing printer connection issues and a myriad of other technical jobs.
Taking the freelance plunge in 2008 meant that I had to start managing my own IT. How hard could it be? I've always been passionate about technology and have specialised in digital and online publishing, so I was able to manage my own IT setup quite easily. You can find most answers by Googling questions and I discovered useful sites such as Quora, which really helped whenever I had a technical query. Whenever I needed to choose a new computer, I would read the views in our freelancer online groups where we had heated debates between PC and Mac users.
Fast forward to the start of 2020 and my home office contained a sit-stand desk, a desktop PC, two monitors, a printer, speakers, a webcam, an ergonomic mouse, a block of A4 paper and cushions for my two sausage dogs. This was fine for a sole business owner working from home.
This setup was great and everything was stable until March 2020, when everything changed as we entered lockdown. Trips to co-working hubs were a key part of my weekly routine but suddenly we needed to create a new co-working station for a family of four at home. Our IT demand increased dramatically overnight. Our whole house was turned into a command centre and looked like a set from Star Trek. My pre-loved monitors were dusted off and loaned out to family members, computer base stations that were due to be recycled were refurbished and brought back to life. Monitors were installed in every corner of the house, cables stretched and draped round corners and the TV was transformed into a gaming hub for use when daily work and schooling is over. The wi-fi was weary and the printer was groaning (even the dogs were confused by the sudden expansion of the co-working hub).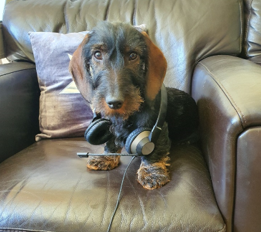 With the sudden increase in co-workers, I found I had limited access to my own office as I had to share with my daughters. I decided to take emergency action and enlist the help of a new supplier in the ELT Publishing Professionals directory.
We've recently added a new Tried & Trusted Suppliers section in the directory where members can recommend services to help freelancers manage their business and take some of the pressure off. We now have a growing list of recommended suppliers in our Members' area of our directory including accountancy, coaching, will writing, pensions and financial planning, virtual assistance and IT support.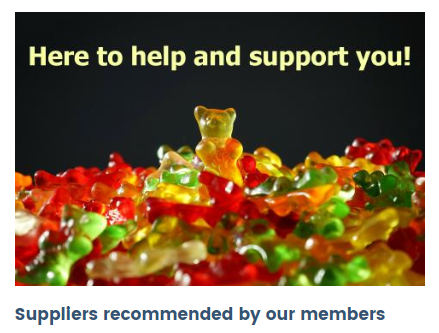 Robert Stokes (Rascom I.T.) is listed in our IT supplier category. Robert had been to the latest ELT Freelancers' Awayday and has worked with ELT members in the past so I knew he was the best person to contact and gave him a call to explain my predicament.
'The computer and phone cables are being stretched to the limits. I can't get access to my own computer during the daylight hours and I need a backup. I need an IT superhero.'
I booked an initial call with Robert and we discussed Windows vs Mac operating systems, RAM, gigabytes and specifications (I was in my element and it felt like the old days back at Macmillan) and he came back to me with a list of recommendations and pricing. A few days later, a shiny new desktop PC and monitor had arrived. The best thing about using a tried and trusted supplier is that you receive a level of personal service that you don't get if you order via a website or from a high street store. Everything was pre-installed, which meant that my computer arrived all set up and ready to use. All I needed to do was plug it in and turn it on – no waiting for Windows to update or Office to download.
I had a check-in call with Robert one day before delivery and he explained how he had set everything up and what I needed to do when the computer arrived. Robert also provides a service where he can remotely support your new computer or laptop once it has arrived and he had set this up on my computer so I felt reassured that he would be able to help and save me time if any problems arose in the future. He made everything seem simple and provided such a great service from start to finish.
I did have an issue with being unable to print after the computer had arrived (there are some things that cannot be done beforehand) but I arranged with Robert for him to connect to my computer remotely and he resolved the problem in a matter of minutes. The remote support software that Robert uses is a well-known one within the IT industry, the connection between his computer and my one is encrypted for security and (unless requested) he cannot access people's systems without them running the remote support software.
Here are some top tips, many of which Robert shared with me during our calls:
Buying a new computer
Buy the right computer to suit your immediate and future needs.

Have a budget in mind – cheapest is rarely best in the long run.

Talk to someone who can advise you before you buy new IT equipment.

Go for the right screen setup to suit your business needs. At least two screens are a priority for my freelance business but my daughters can do their school work on one main screen.

Add-in dedicated graphics cards are good if you have gamers in the house or if you do a lot of design work, image, animation or video editing.

Choose the right software to suit your requirements.

If you can't visit physical stores, contact a recommended tried and trusted supplier.
Setting up a new computer
Book a check-in call with your IT support contact so you can ask any questions.

Remote IT support acts just like an in-house IT helpdesk and most issues can be fixed without anyone needing to leave their home.

NEVER let anyone take remote control of your computer system without being certain of who they are and NEVER let them turn the screen off whilst they are controlling it – hackers have been known to use remote support services to steal information from victims' computer systems by blanking the screen whilst they are connected so the user cannot see what they are doing.
Managing your IT needs
Use any downtime between contracts to conduct a home tech audit.

Keep clearing out your email inboxes and spring clean your cloud storage folders.

Having a laptop as a backup to a desktop computer means you can vary your working location.

Saving files to the cloud means you can access your documents and key files on the move.
Bonus IT tips
If you have Apple and/or Windows PCs at home, a subscription to Microsoft 365 (formerly Office 365) can be installed on up to 5 computers within the same household which is useful for all family members including children at school/college/university.

Internet Security software is essential for all systems – it is a myth that Apple systems are more secure than Windows systems, it's just that more people use Windows systems so attacks are more widely publicised. A paid-for internet security product will always be better than free ones or those built into the operating system.

Matching the charging connector to the device is a good activity to keep everyone amused during lockdown.

Keep an app log so that when you switch phones or equipment, everything is easy to install. My app log includes: Adobe Acrobat, Antivirus software, Dropbox, Evernote, Google Suite, Jing, Loom, MS Teams, Office suite, Smartsheet, Snip & Sketch, Todoist, Toggl, Trello, WD Cloud (backup accessible storage) and Zoom.
And finally, perhaps most importantly of all, turn off all your tech whenever you can, unplug, unwind and enjoy some golden time (our family word for time away from technology and a reward for completing our work).
Useful resources
For telling you the (current) IP address of your Internet Connection. Unless you have a fixed IP address from your Internet provider, this may change whenever your router reboots or gets disconnected.
Check the speed of your Internet connection with this useful tool from Netflix – can often be more reliable than other speed checkers such as Speedtest, which is starting to get bogged down with online ads.
https://www.whatsmybrowser.org/
Find out which browser version you are using which is useful for sharing with developers or IT support.
Jemma Hillyer has worked in the ELT industry for more than 25 years. After teaching in Turkey, the UK and Poland, she studied Applied Linguistics at Edinburgh University. A job selling shampoo to hotels led to a job selling courseware for ELT publishers and she worked in sales and editorial roles at Macmillan and Collins Education. Jemma has been a freelance project manager since 2008 and has worked with amazing teams on award-winning digital and print publishing projects. Jemma helps to organise the ELT Freelancers' Awayday and is a regular presenter at conferences. She is one of the co-founders of ELT Publishing Professionals, a dynamic online directory of freelance professionals with powerful search tools to help publishers find skilled freelancers with the right experience and right availability. 
Views: Granny lessons in lockdown – tales of online teaching by Sue Kay
Views: Granny lessons in lockdown –

 

tales of online teaching by Sue Kay
Sue Kay describes what happened when she set up daily online lessons for her grandchildren and niece as a way of coping with being deprived of their company during lockdown. Here Sue talks about the kinds of lessons that worked well, and provides a list of resources you may find useful if you're home-schooling or teaching online.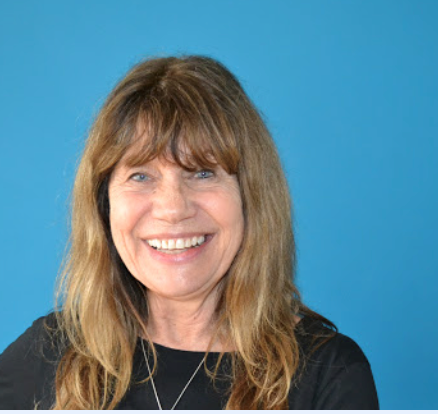 Spring 2020 was looking good – I had fulfilled all my writing commitments by the end of last year, I had promotion trips to nice places in the pipeline, starting with northern Italy in March, conferences to prepare for, holidays to look forward to, time with the grandchildren booked in over Easter. Then you-know-what happened and like everyone else, I had to cross out everything in my diary for the foreseeable.
In this new reality, I know many of you worried about how you were going to manage with children at home all day every day, but my first thought was how was I going to cope WITHOUT my grandchildren who live a couple of hours away from me. I had a couple of very miserable days and sleepless nights wondering when I'd be allowed to get back on the M25 and see them again. How would I survive? Then I had the idea to do online lessons with them, and six weeks in, they've become a regular part of our lockdown daily structure, and a perfect way to see them even if I couldn't cuddle them.
I'm no expert in teaching primary level, but I am an experienced EFL teacher so I know how to make lessons engaging and fun. I'm also lucky enough to have an interesting multi-cultural family, and clever relatives who were happy to get involved. So this is who I see in the virtual classroom every day from 11.30 to 12.30.
Students: My grandchildren Max 11 and Maya nearly 9, half South African. My niece Hana 11, half Japanese.
Teachers: Me; my sister Sal who's a Modern Languages teacher at a local Secondary School and brilliant at writing rude limericks; Zainab my niece, half Iranian but Egyptian in a previous life, events organiser, a natural teacher and a brilliant quiz creator; Freddie and Helen, my nephew and his wife who can turn their hand to any subject and make it fascinating and educational.
Here's what I've learned about online teaching over the last six weeks:
You don't have to be techie to make it work – Skype or Zoom work well. We use Skype, shared screens and a combination of word documents and powerpoint presentations.

Spelling tests have their place. I've learnt that my spelling isn't as good as the kids' – pharaoh, vitamin, oesophagus to name just three that I got wrong.

They love reading out loud, whether it's topic information downloaded from the internet and shared on the screen, or at the end of each lesson, a chapter of the book we're reading together: The Kid Who Came From Space by Ross Welford. If your 9+ year olds haven't read The 1000 Year Old Boy by Ross Welford, they're missing out (and so are you).

True / false is a very decent way to lead into a topic.

It's good to vary media – I thought video would be the preferred medium, but realised that they like video, but equally text, charts, lists, pictures, quizzes, games, arty stuff. They especially like interaction.

They like to be challenged and they embrace opportunities for critical thinking. One of their favourite topics was Freddie and Helen's lesson on Fake News and how to spot it, and now they have a Who, Where, When, What and Why checklist to apply to texts they come across online. A nice twist was that Freddie and Helen got them to create a personal symbol for each Wh point, making the checklist even more memorable.

Pitch high – for one homework I asked them to write funny limericks, which they did and they were great, but one of them also wrote an Ode to Nature, which brought tears to my eyes, and reminded me to have high expectations of my students.  

They like it when they have input to the lesson, so it's good to allocate topics for them to research and present in the next lesson. Last week, Max, Maya and Hana decided among themselves that they were going to take over a lesson: Hana taught us some Japanese language, Max gave us a lesson on South Africa and Maya did a presentation on hedgehogs and otters. It was rewarding to see them using techniques like video clips, fun facts, quizzes, true/false, matching, etc. 

They're competitive so if you put the Friday revision test on Kahoot, it adds that 'first to press the right answer' pressure. First time we did one, I won. When I saw their disappointed little faces, I reminded myself that I probably had an unfair advantage.

They love creative homework. Ideas that have worked well:  

Imagine your family as animals and draw them dancing, eating dinner or watching tv.

Draw a self-portrait with your eyes closed.

Create a new Egyptian god and draw it.

Do a poster about a country of your choice.

Go round your house and choose something that's meaningful to you. Draw it and write a paragraph about it.

Dressing up adds a bit of fun. For Zainab's lesson on Nutrition, we all had to dress up as medics. I now know how to make a nurse's hat.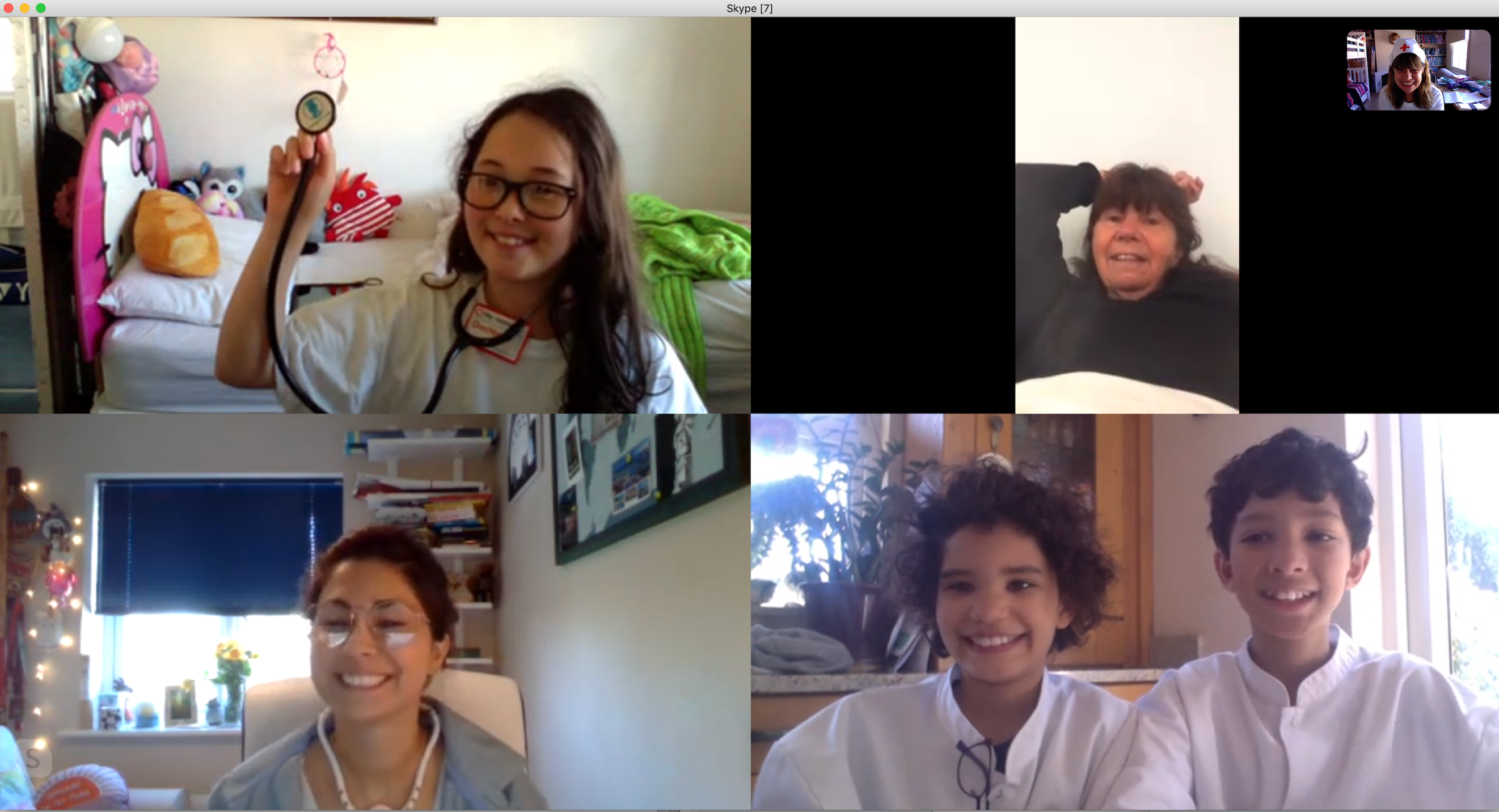 The old ones are the best when it comes to games. Here are some favourites:

Twenty questions

Bingo

Brainstorm in categories with a time limit.

Teapot. Ask yes/no questions to guess the word eg Is Teapot a verb? Can you Teapot at home?

Hangman.

Say a word beginning with the last letter of the previous person's word.

Memory game: variations on I went to the market and I bought …

Memory game: remember 20 pictures

Children are more mature than adults – in our lesson  on anatomy, I started by warning them that they may see intimate parts of the body in the section on organs, and could they control themselves. The first part of the anatomy that came up was the larynx, which was portrayed out of context as a sort of long knobbly pendulous thing. At the sight of this, my sister and I lost it and started sniggering uncontrollably.

It doesn't always go right.

Max and Maya do their lessons in the kitchen and we've had to ask parents to keep the food preparation noises down in the background a few times!

Surprisingly, Max and Maya have only had one fight – we were trying to play hangman and Maya wasn't hiding her word as well as Max would've liked, so there was some shoving and wailing and I found myself looking at an empty screen where Max and Maya had been, and listening to shouting and crying and children being told to go to their rooms.

Yesterday, a glass of water was spilt on the laptop. Hopefully, thanks to fast action by the parents and sunshine to dry it out, it'll work next week.
Timetable so far
Week one: Feelings, Food, Art and street art, Frida Kahlo and Mexican culture
Week two: Music, The ocean, Herbivores, Books and writing a review
Week three: Anatomy, The brain, French parts of the body,  Ancient Egypt
Week four:  Poetry, French, French x 2, Fake news
Week five: The brain, Nutrition, South Africa and counting 1-10 in Japanese, Geography
Week six:  South America, Arabic, Japan, World War II
Useful resources
DLA have made their fantastic video resources available for free:
https://digitallearningassociates.com/whats-new/2020/4/20/new-authentic-video-to-engage-and-motivate-online-english-learners-goes-free-online,
Fabulous for creative homeworks:
https://firstsite.uk/art-is-where-the-home-is-programme/
Lessons in a range of different languages with games and activities the kids love:
This was fun:
https://www.telegraph.co.uk/travel/quizzes/Which-animals-can-you-recognise/
In the lesson on Herbivores, we watched this well-known clip of the sneezing Panda.
https://www.youtube.com/watch?v=93hq0YU3Gqk
Nat Geo Kids is great.
Here are a couple of favourite Nat Geo Kids pages:
https://www.natgeokids.com/uk/discover/animals/sea-life/strange-sea-creatures/
https://www.natgeokids.com/uk/discover/geography/general-geography/ocean-facts/
These were great for the Art topic:
https://www.tate.org.uk/kids/explore/who-is/who-pablo-picasso
https://www.tate.org.uk/art/artists/pablo-picasso-1767/can-you-spot-picassos-signature
https://www.tate.org.uk/kids/games-quizzes/quiz-van-gogh-beat-clock-challenge
Sue Kay has been working in ELT since the early 80s and has been an author for the last 25 years. Her first publication was the Reward Resource Packs published by Heinemann. With co-author Vaughan Jones she has written Inside Out and New Inside Out for Macmillan, Upper Secondary course Focus for Pearson and has most recently written the lessons that accompany the video strand in Language Hub, Macmillan. Sue is also the co-founder of two innovative companies operating in the ELT publishing industry: firstly, ELT Teacher 2 Writer, which publishes books and runs training courses that help teachers and writers perfect their writing skills; secondly ELT Publishing Professionals, a dynamic online directory of freelance professionals with powerful search tools to help publishers find skilled freelancers with the right experience for their projects.
Views: MaWSIG/TESOL 'So Many Englishes' webinar - Q&A summary by Karen Spiller
Views: MaWSIG/TESOL 'So Many Englishes' 

webinar - 

Q&A summary by Karen Spiller
Karen Spiller follows up on some of the questions that were left unanswered in the Q&A section at the end of the recent joint TESOL Association MWIS and MaWSIG webinar: So many Englishes! What does this mean for writers and publishers? The webinar was co-presented by Karen Spiller and Sherrise Roehr on 17 July 2019. You can find a recording of the webinar on the past events page of the MaWSIG website.
1. Are there ever challenges with copyrights when designing textbooks [that use real-world materials]?
Yes; you need to clear permission in the usual way by contacting the copyright holder, and making sure that you get permission to use the copyright material for all the formats, territories, languages, editions, etc. that you need. Of course, it's much simpler to use only material from sources that you know will give you permission (e.g. photo agencies, such as Getty or Shutterstock, or certain newspapers/other publications), but if you restrict yourself in this way, you might be missing out on some great authentic material. If you do decide to track down more obscure copyright holders, e.g. individuals or small companies, there's often a lot of detective work and legwork involved. The timing is also important and it's essential to find out whether you can use the material (or not) early on in the writing process. It can be very frustrating for authors and publishers to design a whole lesson around a text or a photo and then find that they can't use it.
2. Is mixing real-world and made-up always bad? For example, if I have invented characters in my storyline, but they talk about real films based on Shakespeare's plays, would that necessarily be bad?
In the example you give, no, it isn't necessarily bad, as it will be clear to the students that your characters are fictional but the content of their discussion isn't. The question I think you have to ask yourself as writers and publishers is, 'Am I trying to pass off something as true which is actually made up?' If you are, then it's a form of deception. If your message to students is that your book contains real-world material and that they're going to learn about the world at the same time as they're learning English, you have to be really careful about this. Your message can't be: you're going to learn about the world at the same time you're learning English but some of it isn't true (and we're not going to tell you which bits)! So, it's important to make it clear what is or isn't factually true. For example, if you write a conversation between Elena from Argentina and Hans from Germany, and don't give them a backstory or try to authenticate them in any way, I think it'll be clear to students that they're not real people and you're using them as voice pieces. Equally, if you use a real story or real data and then want to create a related text (e.g. a report or a review), it must be clear to the students that this is something the textbook author has created, and isn't part of the original source material. If that isn't made clear, the 'made-up' part is given the same level of originality or authenticity as the real material, and this is misleading.
3. Should we use global Englishes as real-world input? Even though this may negatively affect testing outcomes?
We have to be realistic about what our teaching objectives are. So, if you're teaching to a test, and that test never includes any non-native speakers (NNSs), or non-standard accents, then you might think it's a waste of time to include global Englishes in your teaching materials. However, in the long term, if your students need to speak English in their lives/work, it will probably be to communicate with other NNSs. So I'd argue that even if your short-term objective is to get students through an exam, exposing them to global Englishes will have been useful from a practical point of view. One way to justify including global Englishes in the materials you use for exam preparation would be to talk to students about what their language needs will be after they've taken the exam, and help them see the usefulness of being exposed to global Englishes.
4. Aren't accents a bad thing in normal English classes? Why, then, are we teaching problematic accents to foreign language students?
I agree it doesn't make sense to teach accents to students with the objective of the students reproducing the accent. That shouldn't be the aim. But by including in ELT materials input from NNSs of English who have their own accents, we're teaching students the following things:
Not everyone you speak to in English will use the kind of standard English or General American that is exclusively taught in many ELT textbooks. Exposure to non-standard accents will give students practice in understanding lots of different speakers and will develop their listening comprehension skills as well as their accommodation strategies. As Xavier Munoz said in the webinar, 'using English is also about using accommodation strategies – how to negotiate meaning. It's not just grammar, vocabulary, pronunciation.'
It's motivating for students to see that other NNSs with accents can communicate perfectly well in English. By sending the message that you don't have to sound like a native speaker to have a proficient/native-speaker level of English makes achieving a high level of English more attainable.
So, it's important to provide help in dealing with accents. As Laura Patsko and Katy Simpson said in How To Write Pronunciation Activities published by ELT Teacher 2 Writer, the more you know about who your students will be interacting with, the more focused you can be at looking at specific features of accents and pronunciation. Research by linguists such as Tracey Derwing and Murray Munro has shown that accent and intelligibility are not the same thing, and that the expectations and experience of listeners themselves have a large role to play. For example, one accent of English in the UK that is widely claimed to be 'incomprehensible' is that of Glaswegians (confirmed by Eva Owen, who said, 'I remember meeting a woman with a thick Scottish accent years ago and I had major difficulties understanding her English at first!). Visit Glasgow with no former experience of speakers of Glaswegian English and you'd be forgiven for asking people to repeat things occasionally. But of course people who have lived in Glasgow for a while don't have this problem. Their experience affects their expectations, which in turn affects their ability to understand the speech of Glaswegians. Visit any place or interact with any speaker with an accent that is totally new to you, and it might take you a little while to tune in.
5. If 80% of English speakers are non-native, why is there a focus on American and British English in ELT publishing? To me that doesn't represent diversity.
Interesting! I think that if two NNSs are talking to each other and are having communication problems, they'll probably repeat what they said, and try to sound more 'standard'. This is one of the advantages of having a standard. However, as we know, it's common for NNSs to understand other NNSs more easily than native speakers. As Peyman Bohlori said in the webinar, 'I once had a person from southern US speak to a person from northern UK. Neither seemed to really understand each other!' One of the areas we need to think about carefully when we're creating ELT materials is whether some of what we teach actually makes it harder for a NNS to understand another NNS. For example, there is considerable emphasis in coursebooks on weak forms and vowel quality and yet, according to research, these features aren't crucial to intelligibility. However, the research does show that consonants, consonant clusters, nuclear stress and vowel length are all crucial. So it's ironic, isn't it, that a lot of pronunciation syllabuses are helping students sound like native speakers, which, in turn, will probably make them less intelligible to other NNSs, who are the people they're most likely to be interacting with! This doesn't mean that you should never include those features that don't help to make a NNS intelligible to another NNS (these are features such as intrusion, elision, weak forms, assimilation, etc), but it makes more sense to include those to develop learners' listening skills, not their speaking skills.
6. How is a 'real-world approach' great for a values syllabus?
If your real-world materials are showing that people's lives and customs around the world are sometimes different and sometimes the same, then this is great for encouraging tolerance, embracing diversity, awakening curiosity, etc. Your activities can draw attention to this so that students see that there isn't necessarily a right or a wrong way of doing something. For example, one of the video strands in National Geographic Learning's new primary course Look takes sixteen children whose families are from different countries around the world. In each video, a selection of the children are asked the same question about their everyday lives. Their answers give us a glimpse into that child's life – sometimes their answers reflect aspects of life in that country and sometimes their answers just reflect the personalities of the children. Both types of answer help our students understand that the world is diverse and fascinating.
Let me give another example: if real-world input is based on people who have achieved something great, you can draw attention to the challenges they've faced and not just focus on their 'greatness' or particular achievement. By focusing on the person and telling some stories about their challenges, you can show them as human beings and make them more relatable. So, a student might say, 'Wow, that guy had a lonely childhood, but look what he went on to achieve – maybe that could be me in the future.'
Karen Spiller has worked in the ELT industry for more than 30 years. Her first few years as a rep (OUP and Heinemann) in Spain taught her what teachers were looking for from their ELT materials. She then put this knowledge to work at Macmillan, where she published best-selling titles for global markets. In recent years, working as an independent publishing consultant, Karen has commissioned and developed numerous ground-breaking British English global titles for National Geographic Learning, including Life, Outcomes, Keynote and Look. Karen is also the co-founder of two innovative companies operating in the ELT publishing industry: firstly, ELT Teacher 2 Writer, which publishes books and runs training courses that help teachers and writers perfect their writing skills; secondly ELT Publishing Professionals, a dynamic online directory of freelance professionals with powerful search tools to help publishers find skilled freelancers with the right experience for their projects.