Views: Pearson/ELTpp 'Global Scale of English: at the heart of Pearson's vision for English language learning
Jo Cummins, an ELT Publishing Professionals directory member, summarises some of the key points from the recent webinar run by Pearson and ELT Publishing Professionals – Global Scale of English: at the heart of Pearson's vision for English language learning. The live event took place on 25 March 2021. You can find a summary of the Q&A session from the webinar in the Members' area of the ELTpp website (under the 'CPD' tile).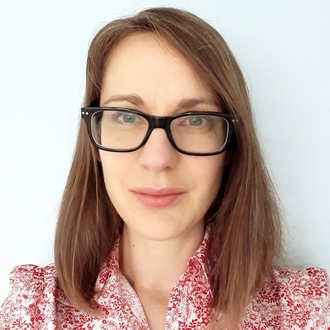 This webinar was presented by Mike Mayor, Director of Global Scale of English (GSE) at Pearson and described the ways that the Global Scale of English (GSE) can be used by content creators. He emphasised that all the tools and resources he would present in the webinar were free to use and would always be free.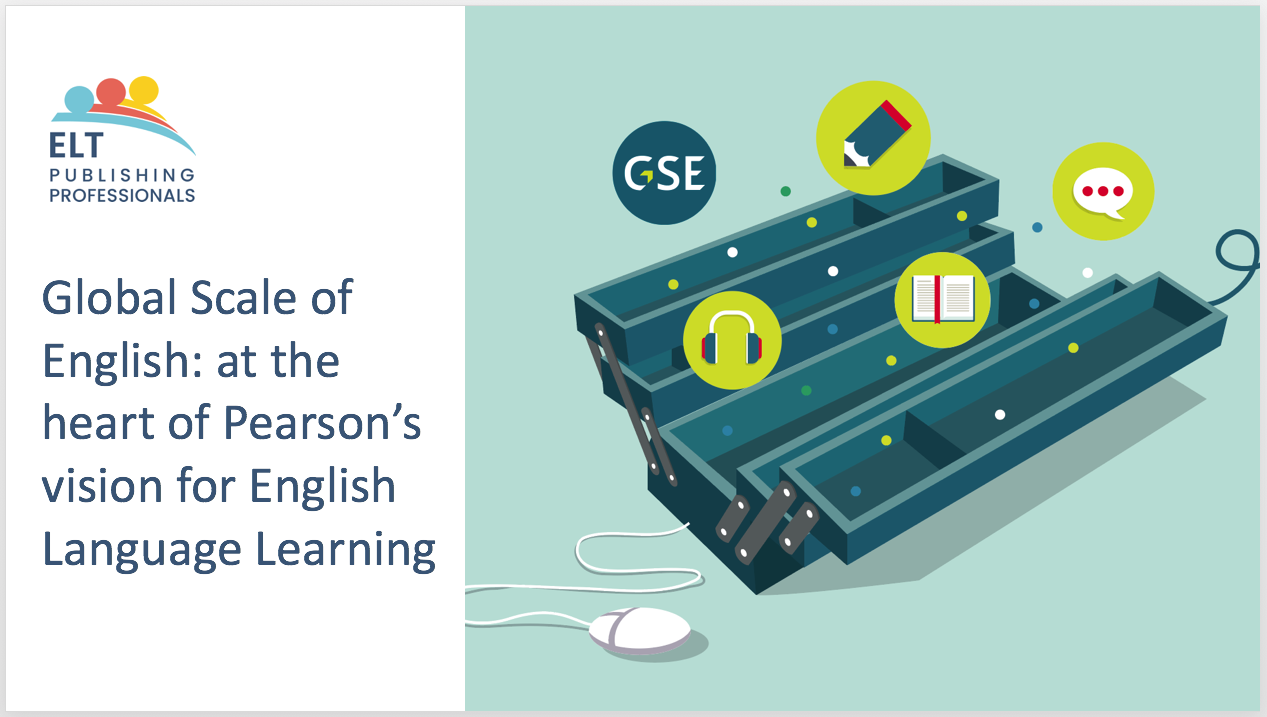 An overview of the GSE
The GSE is a proficiency scale (aligned to the CEFR) and a framework of learning objectives. The learning objectives take the CEFR 'can do' statements and extend them for General Adult English, as well as adding objectives for academic, professional and young learner (primary and lower secondary) English. There are also grammar and vocabulary databases. It is recognised by international organisations, such as the Council of Europe and EAQUALS, as a quality proficiency standard. The GSE now underpins all of Pearson's ELT courses and assessments.
Mike explained that the GSE was developed to extend the CEFR and to provide teachers and content developers with practical tools to be able to easily access the information. He listed a number of limitations with the CEFR. For example: it was developed in Europe for a European context (whereas Pearson publishes for a global market), it was not developed with young learners in mind, it covers mainly general English with minimal references to work and study and the 'can do' statements are distributed unevenly across the skill areas (with two thirds covering Speaking). He also mentioned that the wide levels can be both demotivating to students (who might feel stuck in one level for a long time) and make it difficult to monitor progress on a regular basis. There was also no information below A1 in the original CEFR (although pre-A1 has since been added in the companion volume). The GSE proficiency scale is a numerical scale based on the original research data from the CEFR project, transposing the original CEFR logit values on to a positive scale (from 10–90). This numerical scale enables progress within a CEFR level to be monitored and measured. 
As part of the presentation, Mike stressed that the GSE framework should be used in much the same way as a corpus: as a reference to confirm assumptions and a source of inspiration. It is a generalised global view of proficiency, and teachers and content creators need to bring their own expertise and experience to the table rather than blindly following the framework.
Applications for content creators
So how can it be used by materials writers or editors? Firstly, it can be used to help inform progress through a course (e.g. which learning objectives could be included at low B1 and which at B1+). It also provides learning objectives for different types of learners (adults, professionals, academic and young learners). By using the GSE Teacher Toolkit online, you are able to select the type of learner, the skill and the level then download the information either as a PDF or an Excel spreadsheet. Learning Objectives also link to the grammar points that might be useful and/or necessary to enable a learner to master a particular functional learning objective. The GSE Teacher Toolkit also has a number of other search functionalities. When selecting Professional Learner, you can search learning objectives by business skills (as well as the four language skills) or by specific jobs. When selecting Academic Learner, you can search for Academic Skills in addition to the four language skills.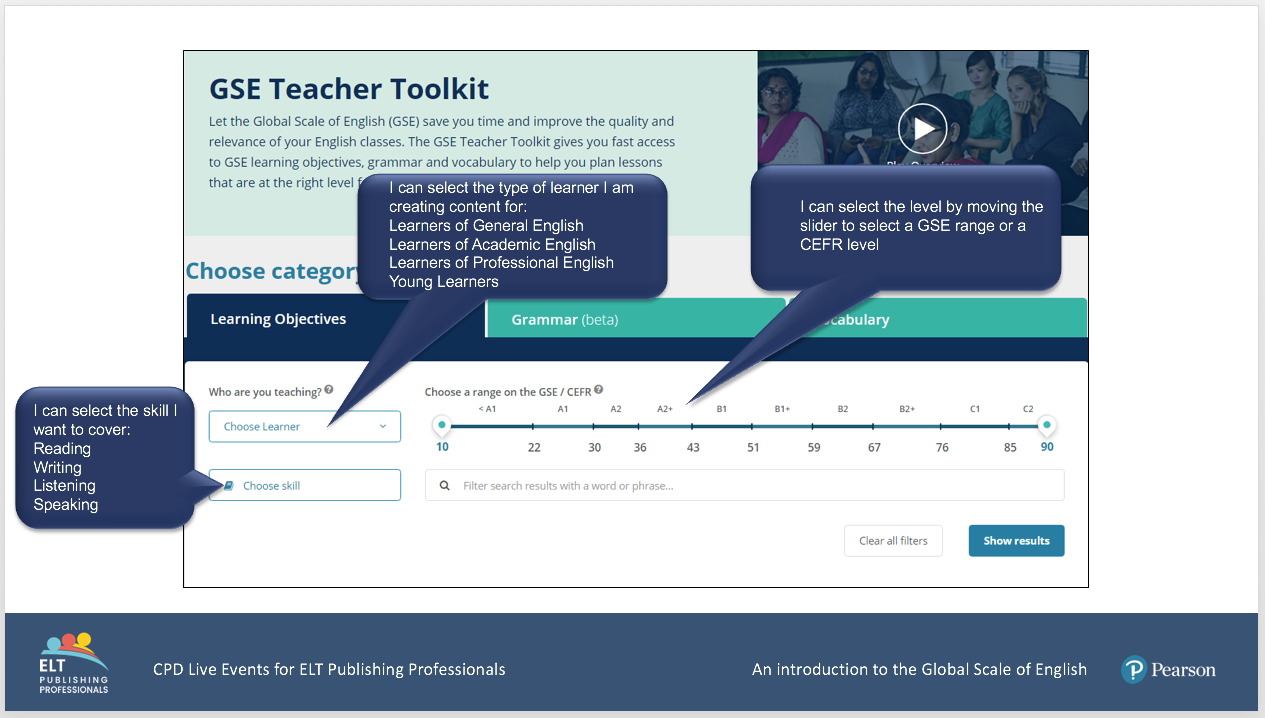 GSE grammar follows a pretty standard grammar syllabus and is currently only available for adult and young adult learners (i.e. learners who are able to analyse language grammatically). It is divided into grammatical categories and grammatical learning objectives are linked to functional learning objectives, which can be useful when considering a real-world context in which to practise a grammatical structure.
GSE Vocabulary is available for Adults and Young Learners. These huge databases have been levelled using a combination of both corpus frequency and teacher ratings of usefulness. The databases are ordered by topic and sub-topic. They contain words, phrases, definitions, collocations and audio pronunciations. Content creators may find it useful to see the whole range of items in a given topic to enable the most relevant/useful/frequent words and phrases to be selected – rather than words and phrases that may well be unknown to the learner but are also low-frequency and less useful.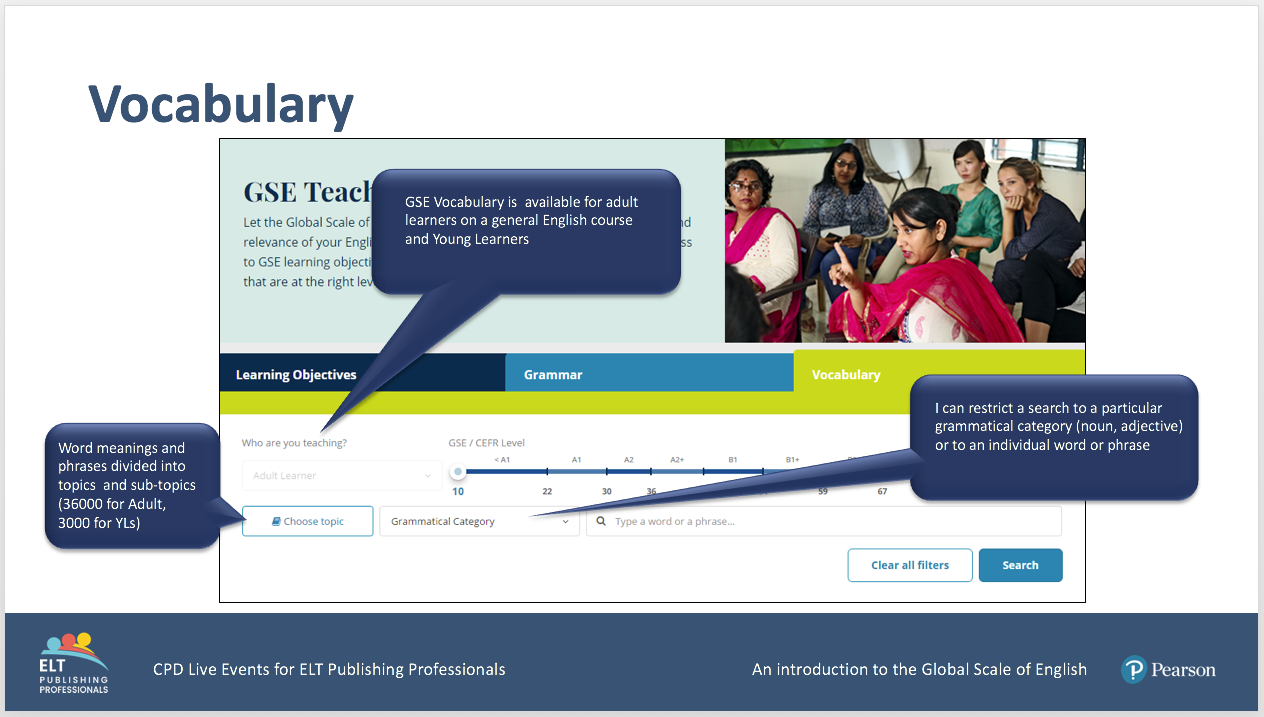 The GSE Text Analyzer is the latest feature to be added to the GSE Teacher Toolkit and was created in collaboration with Pearson's Artificial Intelligence division (that has also worked on the automated scoring of spoken and written English in exams). The software analyses a text and tells you which level it is appropriate for (giving both a CEFR level and a number on the GSE scale). It also highlights vocabulary that might be 'above level'. 
The GSE can also be used to help assess proficiency. The team have created GSE Assessment Frameworks for both Adults and Young Learners. These contain rubrics that describe performance in each of the skills at different levels of proficiency. 
The GSE Assessment Frameworks and GSE Teacher Toolkit can be found on the GSE website along with case studies, blogs and research papers. 
Summary
Overall, I would say that the GSE Teacher Toolkit looks like a really useful and user-friendly way of planning curriculums. The fact that it also separates learning objectives by adults, young learners, academic English, etc is a huge plus and will make it much easier to find appropriate and relevant learning objectives. I also like the way the learning objectives are linked to the grammar and the way vocabulary is presented. It is important, though, to remember Mike's point about it only being used to confirm and inspire as, although this data is all very useful, we need to be aware of not allowing content to become too formulaic. 
Jo Cummins is a freelance materials developer, specialising in writing materials for teenagers and adults. She has taught English in Ecuador, Australia and the UK and currently teaches at Hilderstone College (Broadstairs, UK). She has an MA in Creative Writing and has almost finished her PG Dip in TESOL. She has written for clients including the British Council, Pearson, OUP and York Press.
Jo's special interests in ELT include creative writing, project-based learning, teaching writing skills and developing critical and creative thinking. She is the author of 50 Ways to Teach Teenagers (Wayzgoose Press).
Views: LearnJam/ELTpp 'An Introduction to Moving Courses Online' – a summary by Penny Hands
Views: Ladybird Education/ELTpp 'An Introduction to Diversity and Inclusion' Webinar – a summary by Lottie Galpin
Views: How to get your tech in check – by Jemma Hillyer
Views: Granny lessons in lockdown – tales of online teaching by Sue Kay
Views: MaWSIG/TESOL 'So Many Englishes' webinar - Q&A summary by Karen Spiller