Views:

The 2022 ELT Freelancers' Awayday

 by Tracey Cowell
Tracey is an editorial professional with over 20 years' experience of working on print and digital projects for the education and ELT sectors. She is an Advanced Professional Member of the Chartered Institute of Editing and Proofreading (CIEP). When she isn't working with words, Tracey enjoys knitting, running, and spending time with family and friends.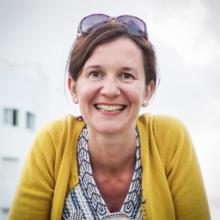 Over the last few years ELT has been an area of interest for me, though I work mainly in educational publishing. In 2019 I worked on an ELT project and wanted to find out more, so I attended my first Awayday. I've now been to three Awaydays and they exceed my expectations every year. 
So what keeps bringing me back?
The people
This year in particular I think many of us felt some level of nerves and anxiety about networking. This was the first face-to-face event I'd been to since the pandemic and I felt a little apprehensive.
But, as always, there was a welcoming atmosphere at the Awayday and it wasn't long before I felt at ease. It was great to catch up with people I hadn't seen for a while, make new connections, and meet people who I felt I knew from 'seeing' them on LinkedIn.
Helen Holwill's brilliant Ninja networking boot camp gave everyone some useful reminders about what to do – and what not to do – when networking.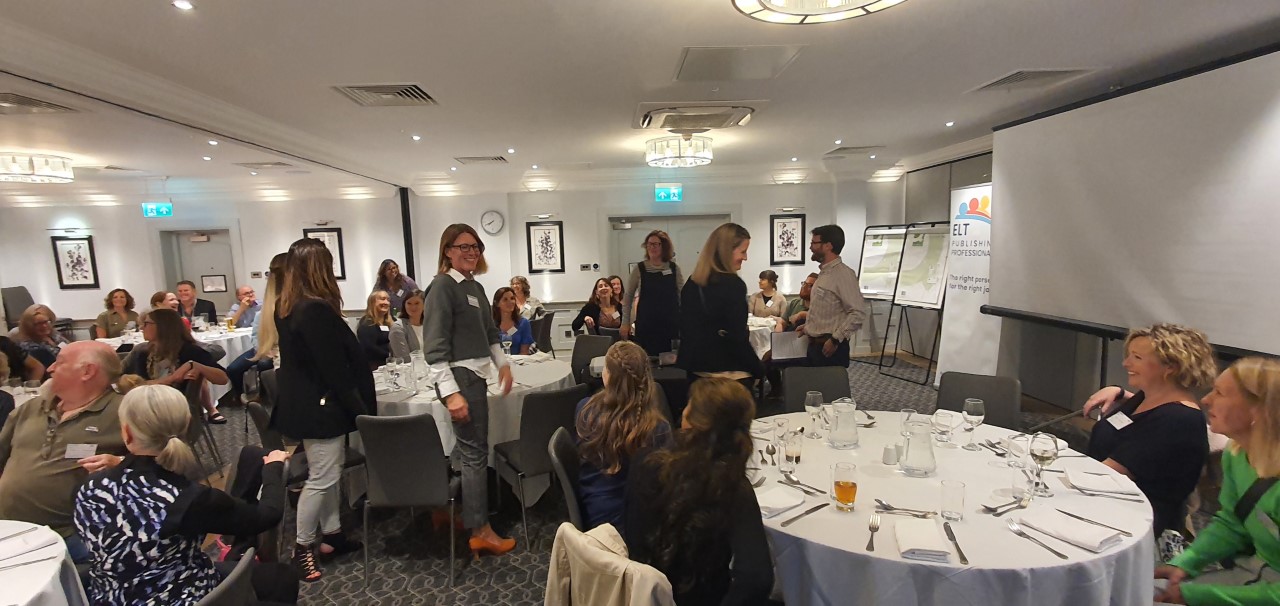 The pre-conference BBQ social event was also a useful icebreaker and a good opportunity to meet members of the Oxford University Press (OUP) ELT division.

In short, it was lovely to be with like-minded people. To share some of the challenges of being a freelancer and a good reminder of the positive things.
The opportunity to find work
The Awayday is the event to go to if you're looking for ELT work. The publishers at this year's event were actively looking to increase their freelancer contacts. A couple of them were also looking for educational publishing freelancers, which was an added bonus for me.
The publishers, packagers and suppliers represented at the Awayday this year included OUP, Cambridge University Press and Assessment, National Geographic Learning, Richmond Publishing, Macmillan Education, Oriel Square, EMC Design, Newgen, Penguin Random House, Avallain, Hyphen, Wild Apple Design, Tom, Dick & Debbie, York Press, Digital Theatre+, Weblink, Creative Listening and Just Content. Some of these organisations had exhibition stands at the Jobs Fair with examples of their recent work. 
Creative Listening were generously offering free professional headshots during the day. I'm looking forward to seeing mine!
The sessions
As always, the sessions were varied and engaging this year, with messages that were transferable to educational publishing, so they felt relevant to my work.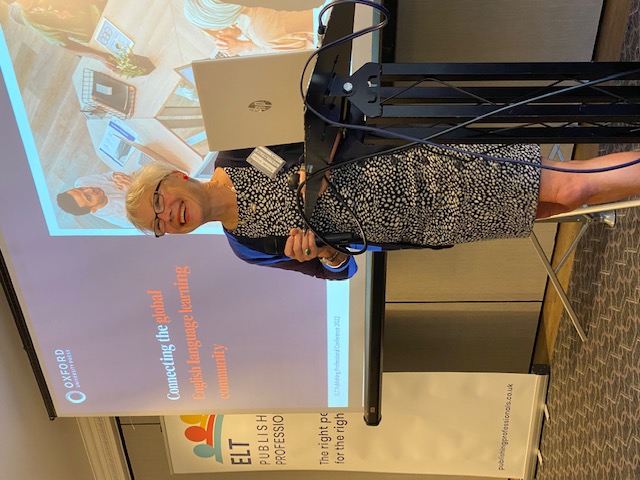 The first session from OUP was fascinating. It was great to find out more about OUP's ELT division, see a freelancer's perspective of working with OUP, and also the kinds of skills that OUP look for in their freelancers and would like to see more of.
The five-minute talks on buzzwords such as neurodiversity, digitization and translanguaging were insightful and informative. And it was amazing to see how much you can pack into a five-minute presentation!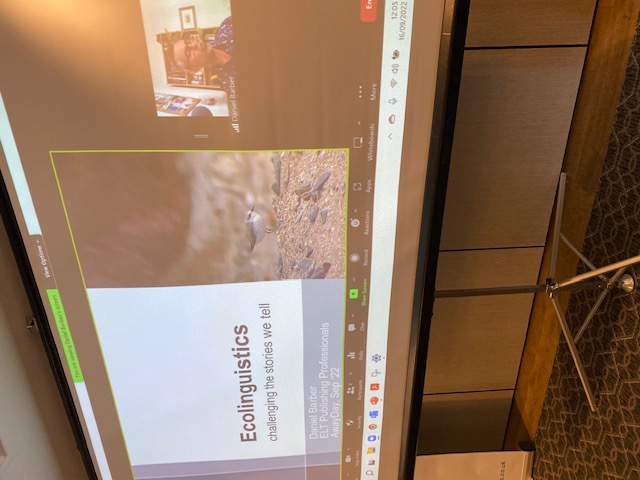 Daniel Barber's talk on ecolinguistics, sponsored by National Geographic Learning, sparked ideas for ways to adapt the materials I work on in order to challenge the stories being told and raise awareness about eco-issues – the positive as well as the negative. 
I had been particularly looking forward to the session by Rachael Roberts about the three deadly Fs of freelancing: feast, famine and firefighting. It didn't disappoint. Having the opportunity to think, undistracted, about what's good and not so good about my current freelance life – and ways to improve it – was challenging but much-needed.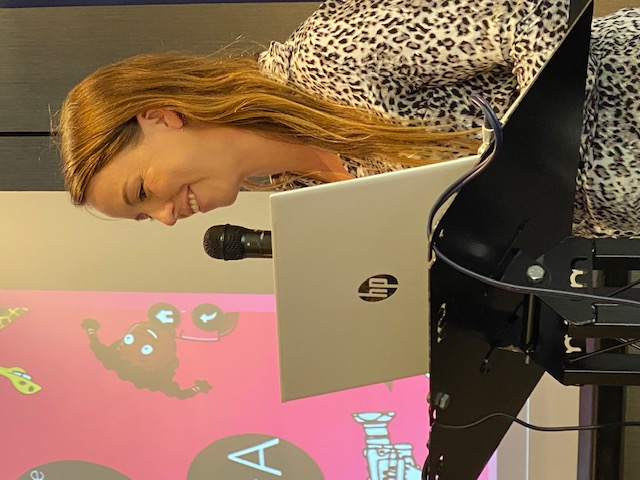 The talk from Tom, Dick & Debbie about effective use of animation in ELT projects was packed full of information and tips, but also humour. And it was great to have an opportunity to watch a clip from Wallace and Gromit!
The final session of the day was a fascinating look at the process of revising the 30-year-old Reward resource packs that Sue Kay wrote. A good opportunity to see why the materials were successful then – and the importance of updating them for today's audiences. 
The day finished with a short quiz. I was lucky enough to be part of one of the winning teams; very exciting for someone who hardly ever wins anything! The prize was the Editing into Plain English guide from the Chartered Institute of Editing and Proofreading. All the delegates received a screen cleaner cloth too :)
The venue
The Awayday is always held at the Oxford Spires hotel, and I stay there the night before the event. The rooms are luxurious, the food is good and the conference rooms are perfect for the Awayday. 
It's become a bit of a tradition for me to have a morning run along the Thames path before the event starts. The sun always shines in Oxford for the Awayday!
The organisers – and organisation of the event
Last but by no means least, Jemma, Helen, Sue and Karen are the perfect hosts for this event. They're personable, welcoming, friendly and unflappable.
Every year, the line-up and organisation of the event works. The Awayday is interesting, relevant and attracts the best of ELT publishing. Huge thanks to everyone involved in making it happen.
I'm proud to be a part of this community and am already looking forward to next year!
Views: Ken Wilson/ELTpp 'Have I got a novel in me?' – a summary by Jacqueline Walkden
Views: Phoenix (Kathryn Munt)/ELTpp 'How to make working for packagers and vendors work for you' – a summary by Liz McGrath
Views: Avallain/ELTpp 'A deeper dive into Avallain Author' – a summary by Lauren Cubbage
Views: DLA/ELTpp 'Understanding the grammar of video' – a summary by James Savery
Views: Pearson/ELTpp 'Global Scale of English: at the heart of Pearson's vision for English language learning – a summary by Jo Cummins
Views: LearnJam/ELTpp 'An Introduction to Moving Courses Online' – a summary by Penny Hands
Views: Ladybird Education/ELTpp 'An Introduction to Diversity and Inclusion' Webinar – a summary by Lottie Galpin
Views: How to get your tech in check – by Jemma Hillyer
Views: Granny lessons in lockdown – tales of online teaching by Sue Kay
Views: MaWSIG/TESOL 'So Many Englishes' webinar - Q&A summary by Karen Spiller