CALENDAR OF FORTHCOMING CPD LIVE EVENTS
Global Scale of English: What? Why? And how can it support content creators?
Presenter
Mike Mayor, Global Scale of English
Date/Time
25 March 2021 (2pm UK time)
Registration opens
11 March 2021
Summary
Since its publication in 2001, the Common European Framework of Reference (CEFR) has become a standard framework of reference for teachers, learners and content creators around the world. Whilst many institutions and ministries of education have benchmarked their language programs and proficiency targets to the CEFR – most practitioners (teachers and content creators alike) have found the CEFR framework challenging to work with.
The Global Scale of English (GSE) is an extension of the CEFR for English, with hundreds more Can Do statements to address the needs of a wider range of learners. Critical to the project has been the development of tools and resources to support teachers and ELT authors in implementing the GSE (and the CEFR) in their day-to-day work. In this presentation, we will explore why the GSE was created and look at the resources that are freely available to support content creation.
The GSE lies at the heart of all Pearson ELT products and services, including both courseware and assessments. This session will also introduce a new online service – English Marketplace. This website enables authors and teachers to sell their own video lessons direct to learners around the world. Any authors submitting content to the site need to be familiar with the GSE since the GSE Learning Objectives are a central part of the data tagging that enables recommendations on which content learners should use next.
_________________________________________
How to make working for packagers and vendors work for you!
Presenters
Kathryn Munt, Caroline Boot
Date/Time
May 2021
Registration opens
TBC
Summary
Packagers and vendors have been part of publishing for decades, but recently we've seen them playing a more significant role. As a writer or editor, you may now find yourself being asked to work directly with a vendor/packager rather than with the publisher and on most projects you are likely to be commissioned by them.
In this highly interactive webinar, we'll discuss in depth why this change is happening, and importantly, how you can best engage as a publishing professional.
We'll explore the following areas, and for each section, we'll hear what vendors and packagers have to say, as well as taking questions from the audience:
The roles and relationships in the publishing ecosystem between publishing houses, packagers and vendors, technology providers and freelancers; visions for the future

The ELT workflow between publisher and packager/vendor; how the role of the freelancer fits in

How to engage with packagers and vendors; how to make the relationship work for you.
Previous CPD events: Moving Courses Online: Five Things to Consider (20 January 2021)
Summary
Online learning isn't just a case of moving content from one format to another, or turning a live class or workshop into videos or a series of presentation and practice activities. For us it requires proper consideration of learning principles, the learner and the affordances of the technology being used.
In this session we will:
Give an overview of our methodology for moving in-person / offline content to an online learning platform.

Share tips on how to work successfully on an online project, including questions to ask, things to watch out for and tools to use.
Previous CPD events: An Introduction to Diversity and Inclusion (24 November 2020)
How can we, as publishing professionals, become more inclusive in the way that we work? With a focus on racial and ethnic inclusivity, this webinar will provide an introduction to evaluating your own mindset, the context for racist practices within publishing, and steps that you can take to challenge and rectify those behaviours. 
Agenda
The terms diversity and inclusion – what do they mean? (referencing the harm created by exclusion/marginalisation)

Marginalised groups (and under-representation as a symptom of marginalisation) – historical context, link to privilege

Privilege

Intersectionality (inc. context and founder of this term)

Tokenism and identity flattening

Equality vs Equity
Focus on racial and ethnic diversity 

Terms e.g. BIPOC and BAME – context and usage

Racism – overt and covert – how our world and culture are organised

Legacy of colonialism on British/ELT publishing – how that affects our publishing practices today (e.g. cultural appropriation, erasure – with examples of text and artwork) 
What can we do? Practical steps to thinking inclusively as a publishing professional.

PRH UK and Ladybird Education initiatives

Understanding and acknowledging our own privilege

Educating ourselves

Committing to thorough research when required

When checking material – text/artwork – what to keep in mind
Further reading/learning suggestions
Speakers
Chimaoge Itabor is currently studying a postgraduate degree in Law. They have been a legal volunteer for the Free Representation Unit, and have worked with charities such as Hestia and Refuge as a domestic violence support worker. Chima is a writer and poet, and has hosted panel events with groups such as BlkSisterhd on abolitionism. They are passionate about community organising, writing, and increasing awareness around white supremacy, colonialism, transphobia and patriarchy.
Kate Heald is Publisher at Ladybird Education, part of Penguin Random House UK. Ladybird Education publishes ELT graded readers for children, teens and adults, as well as home-learning material for first language markets. Penguin Random House UK is committed to making publishing a diverse and inclusive industry, working with partner organisations and individuals, such as Chima, in order to do so. Kate has previously worked at Macmillan Education and Collins Learning.
Previous CPD events: An Introduction to Avallain Author (23 September 2020)
As more and more teaching and learning goes online, the number of digital components included in ELT courseware is proliferating. Avallain Author is the go-to online authoring tool used by nearly all the major ELT publishers. It offers tools and software to create, maintain and publish interactive content and learning material, and is the world's most flexible and powerful online authoring tool.
Avallain and ELT Publishing Professionals have teamed up to bring you an introduction to this authoring tool. This hour-long, live webinar is suitable for ELT/educational writers and editors.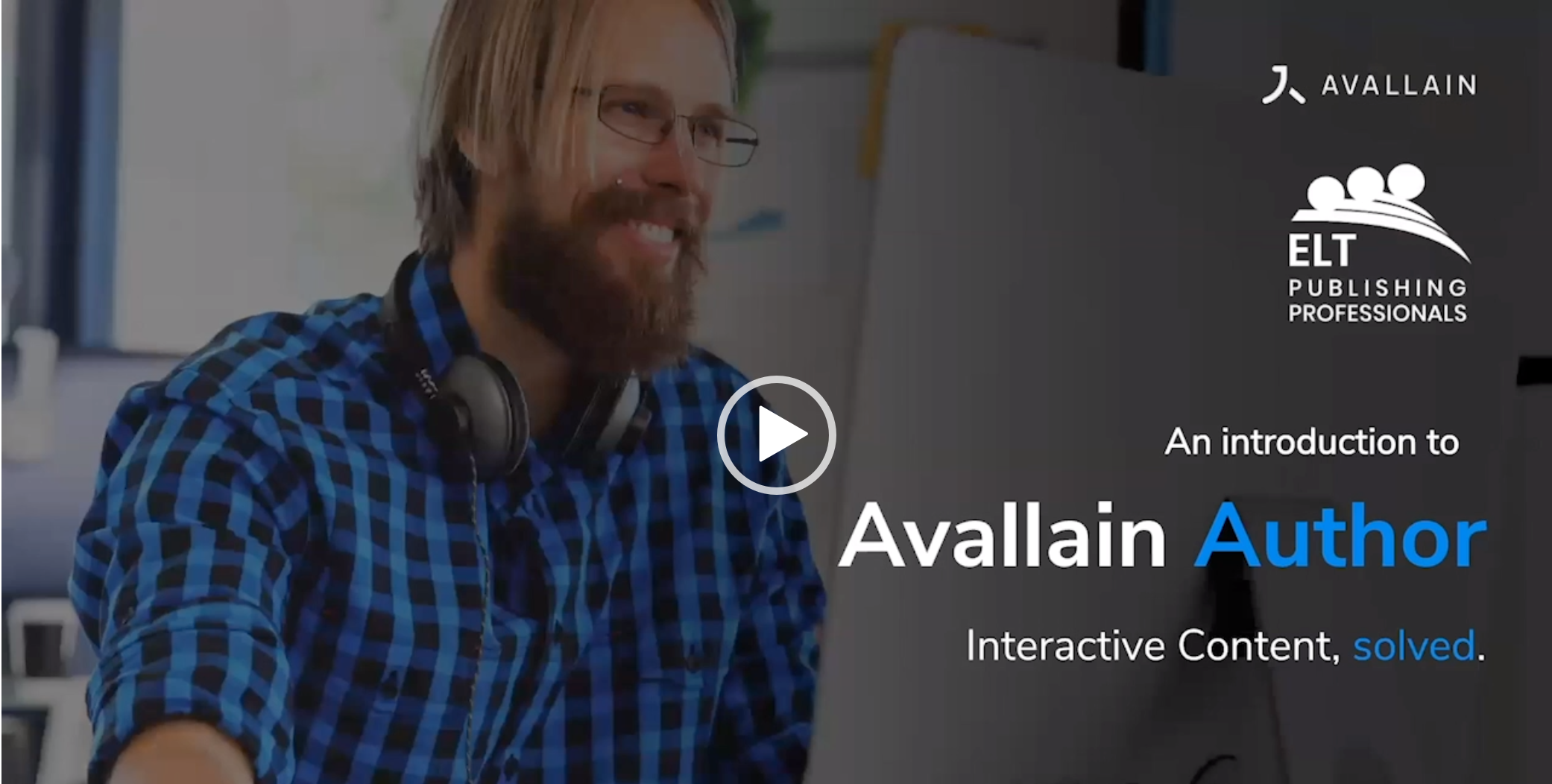 THE CONTINUING PROFESSIONAL DEVELOPMENT (CPD) LIVE EVENTS PROGRAMME
ELT Publishing Professionals' live CPD online events take place every two months and are an opportunity for freelancers and in-house publishing staff to keep their skillset and knowledge up to the minute.
The programme provides training on key issues of the day and the sessions are delivered by industry experts.
The sessions are free for members of the ELT Publishing Professionals directory and cost £20 for non members.
Registration opens two weeks before each event and can be accessed from this page.