CALENDAR OF FORTHCOMING CPD LIVE EVENTS
You're writing or editing materials with LGBTQ+ narratives. How's it going?
Presenter
Tyson Seburn
Date/Time
Wednesday 8 November 2023, 2pm (UK time)
REGISTRATION: directory members
This event is free for members of the ELT Publishing Professionals directory and members can register here.
REGISTRATION: non-members
If you aren't currently a directory member, you can still attend by purchasing a non-members access for £20. Pay here, then register here. All registrations will be manually approved and confirmed by email.
REGISTRATION: in-house staff of publishing organisations
Registered publishers automatically get one free place at each webinar. Further in-house staff can also attend by paying £20. Pay here, then register here.
Summary
Let's find out—there are a lot of people now learning how to or even producing ELT materials that fall within what we might consider to be a step up towards inclusive materials. These can be differentiated in several ways when examining which groups or characteristics are being represented. For the Queer community, we might apply the materials to a taxonomy of forms of representational heteronormativity (Moore, 2020), which uses key characteristics to place within a five-point scale from explicit heterosexism to queer inclusion. With a specific focus on the representation of the LGBTQ+ community, in this session we'll take a more deliberate look at what makes our representation authentic and meaningful in language learning contexts. Using two complementary approaches (usualisation and disruptive) and Moore's taxonomy, we can devise key considerations for you to keep near when creating or editing materials with the LGBTQ+ community included.
Tyson Seburn
Tyson Seburn (MA EdTech & TESOL, University of Manchester) is an EMI/EAP lecturer at the University of Toronto and tutors for Trinity DipTESOL. His interests focus on Queer and racialised ELT experiences. He is the author of Academic Reading Circles (2015) and How to Write Inclusive Materials (2021).
Tyson has called Seoul and Toronto home and is proud daddy to his pup, Lou. He used to be a gymnast (once he did a cartwheel during the IATEFL Pecha Kucha to prove it), sometimes still a comic book collector (mostly Wonder Woman and X-Men), and always a pop music fan, particularly New Order, Pet Shop Boys, Depeche Mode, Kylie, and Madonna.
_________________________________________
THE PROGRAMME FOR THE 2024 CPD LIVE EVENTS WILL BE ANNOUNCED SOON
PREVIOUS EVENT: The What, Why and How of Social and Emotional Learning (6 September 2023)
Over the last few years, the world of education has increasingly been hearing and using the terms 'Social and Emotional Learning' (SEL) or 'Social and Emotional Skills'. But what does SEL really mean, why is it particularly important and relevant now and how can we ensure that our materials encourage the development of these skills? In this webinar, I'll run through a brief history of social and emotional learning, examine its definition and associated descriptors and investigate why there is an increasing need for students to focus on SEL, for both their personal and their academic development. I'll also share some ideas about how we can incorporate social and emotional learning into our materials.
Katherine Stannett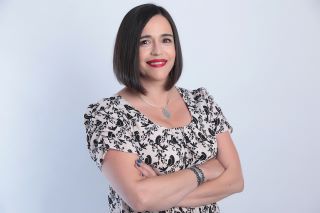 Katherine Stannett is an author and editor based in the UK. She has taught English to a wide variety of students in many different settings and is the co-author of several successful secondary series for Pearson, Macmillan and National Geographic Learning as well as raps, songs and magazine articles. She gives plenaries and workshops around the world and also conducts webinars from her home office in the UK. Kath is passionate about using real-world materials to help children develop their social and emotional skills and global competence within a supportive and holistic framework.
PREVIOUS EVENT: Using copyright materials and clearing permissions (12 July 2023)
It can be difficult to know when it's OK to reproduce text, images and other materials from third-party sources. What can you use and how much should you change it?
In this session we looked at how you can approach these questions and the underlying copyright principles, with an emphasis on UK-based publishers.
What is (and isn't) protected by copyright

When can you rely on 'fair dealing' and what are the risks (also touching on US 'fair use')

Adaptations – do they need permission?

Are the materials you find online themselves breaching copyright?

Using quotations, adapted texts, poetry and lyrics

Using images and photographs

Linking to platforms such as YouTube

Clearing permissions and making the process easier

Some common pitfalls and copyright myths
Clare Painter
Clare is a rights consultant specialising in digital rights and the use of digital materials. She holds a Masters in UK, EU and US Copyright Law from King's College London, completed during lockdown in 2020. She and her freelance team hold ongoing permissions roles with Oxford University Press, leading Swiss business school, IMD (e-learning), and an ELT publisher focussed on the Chinese market. Clare also runs Clare Painter Associates, a Digital Licensing Agency that helps publishers to license content in institutional markets. Previously she was Rights Director at digital pioneer Helicon Publishing.
PREVIOUS EVENT: Creating diverse and engaging ELT and cross-curriculum content in Avallain Author: the latest updates (25 May 2023)
Following on from Avallain's two very successful previous CPD sessions that focussed on ELT materials, in this session we looked at how Avallain Author can be used to create a variety of content for a range of educational settings. Avallain also touched on the European Accessibility Act (EAA) and its implications for accessibility in everything they do digitally. There was a specific focus on:
interactive ebooks
one-page learning units (new scrollable lesson formats)
creative video-based lessons
realia templates (eg creating a newspaper article)
maths / science notation (eg algebra, formulae)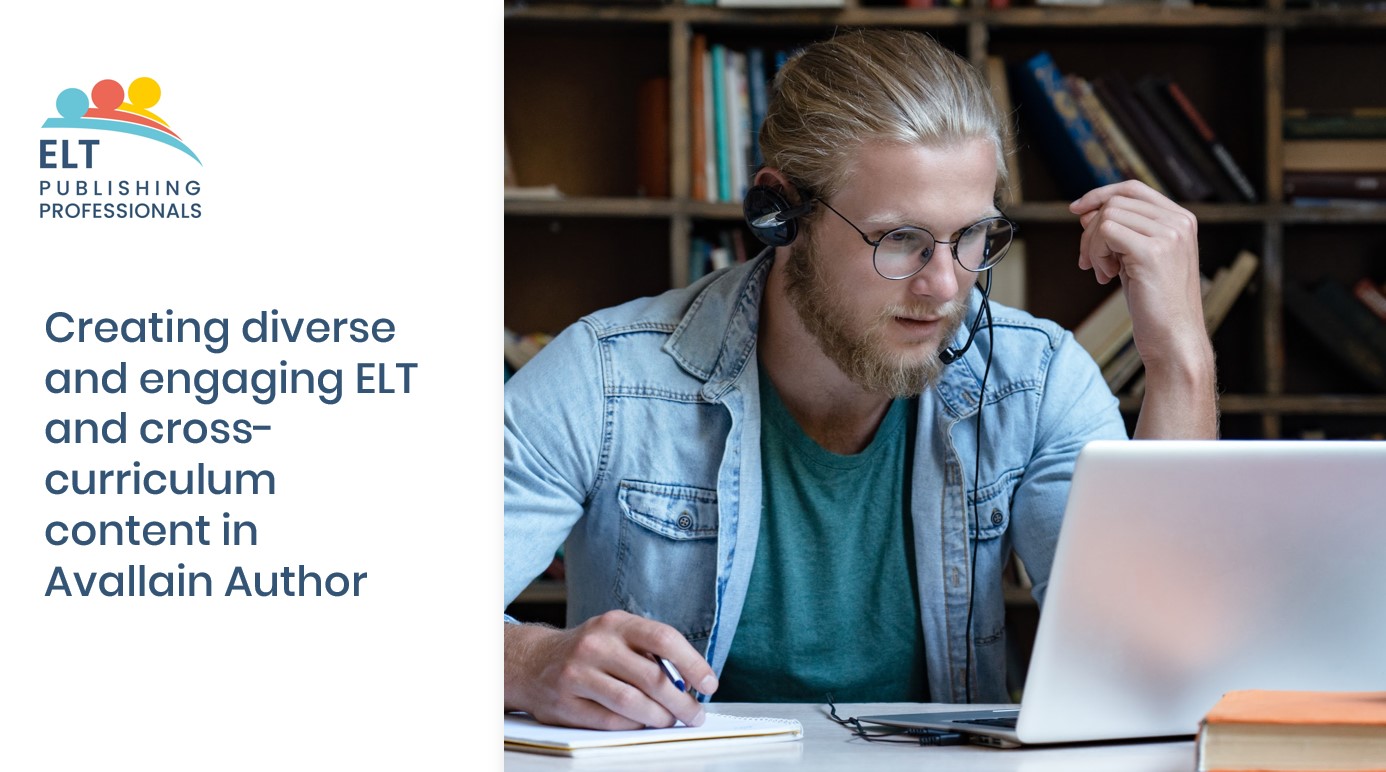 Nadine Hartley
Nadine Hartley studied English/American Literature and Linguistics at the Humboldt University in Berlin before moving to the UK, where she began her career in publishing. For several years she has been Head of Product Documentation and Training at Avallain AG. Together with her team she supports Avallain's clients in their content production processes and offers regular trainings and webinars to Author users. In her spare time, she likes doing yoga, reading and taking her dog for long walks.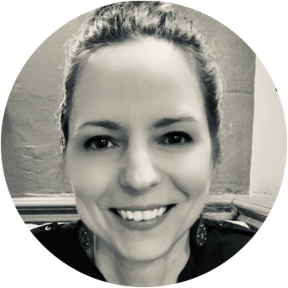 PREVIOUS EVENT: Freelancing in ELT and Educational (Schools) publishing - where are the crossovers? (28 March 2023)
In this panel session, we asked ELT and Educational freelancers a number of questions designed to identify the crossover opportunities for ELT and Educational freelance editors and writers. We crowdsourced questions ahead of the event and focused on these key questions to kick off the session: Have you ever wondered whether you need specific subject knowledge to copy edit/proof read in Educational publishing? Or whether the development process and schedules in Educational publishing are the same as in ELT?
Panellists
Gill Budgell is the director of Frattempo Ltd, which is an education consultancy business specialising in EdTech and publishing services. She has over 30 years' experience of education as a teacher, publisher, researcher and writer of early years and primary English language resources. Before establishing Frattempo, Gill was an in-house English/Language Arts primary publisher for 14 years. She has developed, written and published many outstanding and award-winning print and digital language and literacy resources with publishing partners, and is RSA qualified in supporting the needs of bilingual pupils.
Rebecca Durose-Croft is Managing Director of Westchester Education, UK and International. As well as being responsible for the production of STEM, literacy and projects at Westchester Education, she also oversees all ELT and Bilingual Education projects. Rebecca is a CELTA-qualified English Language Teacher and has worked as an in-house ELT editor at Oxford University Press. Rebecca brings a wealth of experience in educational publishing, having previously worked in Editorial and Management roles for Pearson Education, Cambridge University Press, and Marshall Cavendish. Rebecca has worked across print, digital, and online platforms and has extensive knowledge of UK and international curricula.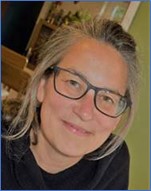 Catherine Ball is an ELT professional with nearly 30 years' experience teaching, editing and writing. She spent many fulfilling years teaching – from refugees in her native Canada to teenagers in Eritrea with VSO to children in Portugal with The British Council. Settling in the UK, she began her publishing career at OUP in Primary ELT and after 8 years of learning the tricks of the trade, left her Senior Editor role for a diverse and rewarding freelance career. She loves the joy of writing for pre-primary courses and is happiest when drawing visuals of kooky koalas to accompany her manuscripts.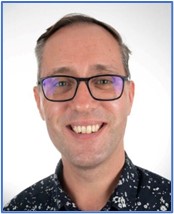 Derek Philip-Xu is originally from Aberdeen but in 2003 he decided to take a year out and teach English in Japan. He ended up staying for five years before moving on to Spain and then China. Twenty years later, he is still involved in ELT. An opportunity in China saw him move into publishing, dealing with both print and digital content. On his return to the UK in 2016, he worked with one of the large publishers, but a couple of years ago decided to go freelance and set up his own company, Refreshing Publishing, specialising in publishing project management and digital content development.
PREVIOUS EVENT: Giving materials that sustainability twist (25 January 2023)
As writers, editors and publishers we're constrained by market demands to fulfil a broad range of educational needs, from covering the topics to exam preparation. However, in an emergency such as the climate emergency, shouldn't everything we do be geared towards ending that emergency? Is there a way to make sure more of our materials contribute to the fight against climate change and biodiversity loss, not just that unit on The Environment? In this session we explored what that might look like.
Daniel Barber is a teacher, trainer and writer based in Cádiz, Spain. He has taught for 28 years, in Mexico, the UK and Spain. He writes for several publishers, most recently National Geographic Learning on their Voices course. His spare time is often taken up learning about the natural world, especially birds. It's this interest, and concern with the consequences of our modern globalised society that has directed his thoughts regarding climate breakdown and the biodiversity crisis and our profession's place in it. In May 2019 he helped found ELTfootprint  and has been involved in it since.
PREVIOUS EVENT: Engaging CLIL projects for the English classroom: bridging the gap between subject content and language (16 November 2022)
In CLIL teaching, subject content is the protagonist and language is the vehicle. As a result, language driven by the needs of the subject content, and taught and learned implicitly. As ELT writers and editors with a language curriculum to follow, how can we create materials that help us to join the dots between CLIL and language teaching in the English classroom? In this practical session we looked at creating CLIL materials for the English classroom and how ELT and CLIL materials differ so that we can begin to think about how we can create materials to bridge the gap between them.
PREVIOUS EVENT: ELT and the Climate Crisis – developing sustainable students (21 July 2022): Charlotte Ellis (Head of Strategic Marketing at NGL)
The climate crisis is the biggest single challenge of our generation and without collective action we risk crossing planetary boundaries of no return. Far from fear-mongering we need to build awareness on the consequences of collective actions and how we can all help avert the crisis. Why the ELT materials? Why not? English will undoubtedly be the language the world uses to unite to solve this problem, it is the language of the UN Sustainability Development Goals and as ELT publishers we have a role in not only presenting the relevant language but also using our platform to raise awareness.
This practical workshop aimed to give participants the tools to appreciate, understand and implement sustainability in our materials.
Presenter
Charlotte Ellis
Charlotte studied Modern Languages (French and Modern Greek) at Oxford University and has long had a passion for sharing cultures and using languages to cross borders. Most recently her attention has turned to how we can use language and education to try to solve some of the biggest questions our generation has to face – that of climate crisis and sustainable living. Charlotte has recently studied with the Cambridge Institute of Sustainable Leadership and is co-lead of the Cengage Green Employee Research Group alongside her role as Head of Strategic Marketing at National Geographic Learning.
PREVIOUS EVENT: Rules and explanations in ELT grammar (24 May 2022)
In this session, we will be thinking about explanations and rules about English grammar for learners of EFL. We will take a short trip through time, discussing how grammatical explanations for EFL emerged at the beginning of the 20th century, and will explore how they've changed over time. Using examples from a number of contemporary practice grammars, we will try to establish what makes a good pedagogical grammar explanation but will also consider the difficulties involved and the compromises that sometimes have to be made.
Graham Burton is a researcher at the Free University of Bozen-Bolzano, Italy and has been involved in ELT for over 20 years. He has an MA and a PhD in Applied Linguistics, the latter focussing on the history and accuracy of pedagogical grammar explanations for EFL. He has worked as both an editor and author and has written materials for a number of publishers, including Cambridge University Press, Richmond ELT, HarperCollins, Oxford University Press, Macmillan, Pearson and Cengage / National Geographic. Some recent publications include Personal Best B1+ Student's Book (Richmond), Cambridge English Empower B1 Student's book (CUP, as co-author), and Collins Academic Skills Series: Presenting (HarperCollins), part of the ELTon award winning Collins Academic Skills series.
PREVIOUS EVENT: Item writing taster session (24 March 2022)
Exams should perhaps join death and taxes on Franklin's short list of life's certainties; and the world of ELT plays its part in this. As well as there now being a huge variety of certified proficiency, level and placement tests, course books routinely include revision tests and other assessments of progress.  Increasingly, ELT writers and editors are called on to produce test items – but how do the skills and expertise needed for item writing differ from those required for materials writing?
In this one-hour session, LT123 will introduce some of the key principles that guide item writing, considering the fundamental question: How do you make a fair test? We'll explore practical examples of a range of test items across different language skills, looking at what makes a good, and a not-so-good, test item.  We'll also highlight the key skills that item writers need, to give you a taste of the intricacies of item writing and editing.
 LT123 is a highly experienced and expert consultancy specialising in English language assessment, learning and training materials. It has been supplying assessment content to education ministries, major publishers and exam providers for over ten years.
Felicity O'Dell has been involved in item writing for a number of years and for various assessment organisations, including academic and younger learners. She has published many books for language learners, focusing particularly on vocabulary development and exam skills.
Frances Treloar has extensive practical experience of creating test content for a range of purposes and assessment organisations. She has a very sharp eye for writing and editing assessment design and content, and is skilled in training and leading item writing teams.
PREVIOUS EVENT: Have I got a novel in me? The transition from writing ELT to writing fiction (27 January 2022)
In 2015, after working in ELT for more than forty years, Ken Wilson enrolled on a Creative Writing MA course at Birkbeck College London, and subsequently published his first novel in 2021. In this talk, he will outline the main challenges faced by new writers of fiction, but also the advantages of coming from a background of writing for an ELT market, not least the fact that you've already had experience of the editorial process and, more important, you've had to deal with editors who may or may not be on the same wavelength as you. Ken will talk about the value or otherwise of doing Creative Writing courses, plus some thoughts on other useful professional development avenues, such as the writing workshops organised by the Guardian newspaper. Finally, some dos and don'ts about the exhausting search for an agent and a publisher.
Ken has written more than thirty ELT titles, including more than a dozen series of course books. His most successful course material is Smart Choice, an OUP American English course for young adults, first published in 2007. The fourth edition of Smart Choice was published in 2020.
Ken was one of the team of authors who wrote New Standard English, a course for China which takes learners from primary to college level, which was co-published by Macmillan UK and Foreign Language Teaching and Research Press, Beijing. He is also Editor-in-Chief of a primary series co-published by Macmillan China and VEPH Vietnam.
His first ELT publication was a collection of songs called Mister Monday, which was released when he was 23, making him at the time the youngest-ever published ELT author. Since then, he has written and recorded more than 250 language teaching songs, published as albums or as integral parts of course material.
For many years, Ken was artistic director of the English Teaching Theatre, a company which toured the world performing stage-shows to learners of English. The ETT made more than 250 tours to 55 countries in Europe, Latin America, Africa, the Middle East and Asia.
PREVIOUS EVENT: Using PDF markup to the max and making your comments crystal clear (23 November 2021)
Whatever your role in publishing, if your work involves commenting on PDF page proofs, then using the available tools effectively will ensure clear communication of your changes, increase your efficiency and save you time.
On-screen PDF mark-up is one of the most common methods of making corrections to laid-out page proofs, but there can still be confusion around what tools and functions are available when marking up in this way, and what best practice looks like.
In this hour-long session Denise will explain her top tips for working with the free version of Adobe Reader DC, the industry standard software for checking page proofs. Everything that you need to do when marking up a PDF is available to you in the free software – no need for expensive licences for functionality that you won't use.
Denise is a freelance copyeditor and proofreader who works with many different publishers on ELT materials. She teaches proofreading and marketing for Publishing Scotland and the Chartered Institute of Editing and Proofreading (CIEP) and has been marketing director of the CIEP since 2017.
PREVIOUS EVENT: How to make working with packagers and vendors work for you! (22 September 2021)
Packagers and vendors have been part of publishing for decades, but recently we've seen them playing a more significant role. As a writer or editor, you may now find yourself being asked to work directly with a vendor/packager rather than with the publisher and on most projects you are likely to be commissioned by them. In this highly interactive webinar, we'll discuss in depth why this change is happening, and importantly, how you can best engage as a publishing professional.
We'll explore the following areas, and for each section, we'll hear what vendors and packagers have to say, as well as taking questions from the audience:
The roles and relationships in the publishing ecosystem between publishing houses, packagers and vendors, technology providers and freelancers; visions for the future
The ELT workflow between publisher and packager/vendor; how the role of the freelancer fits in
How to engage with packagers and vendors; how to make the relationship work for you.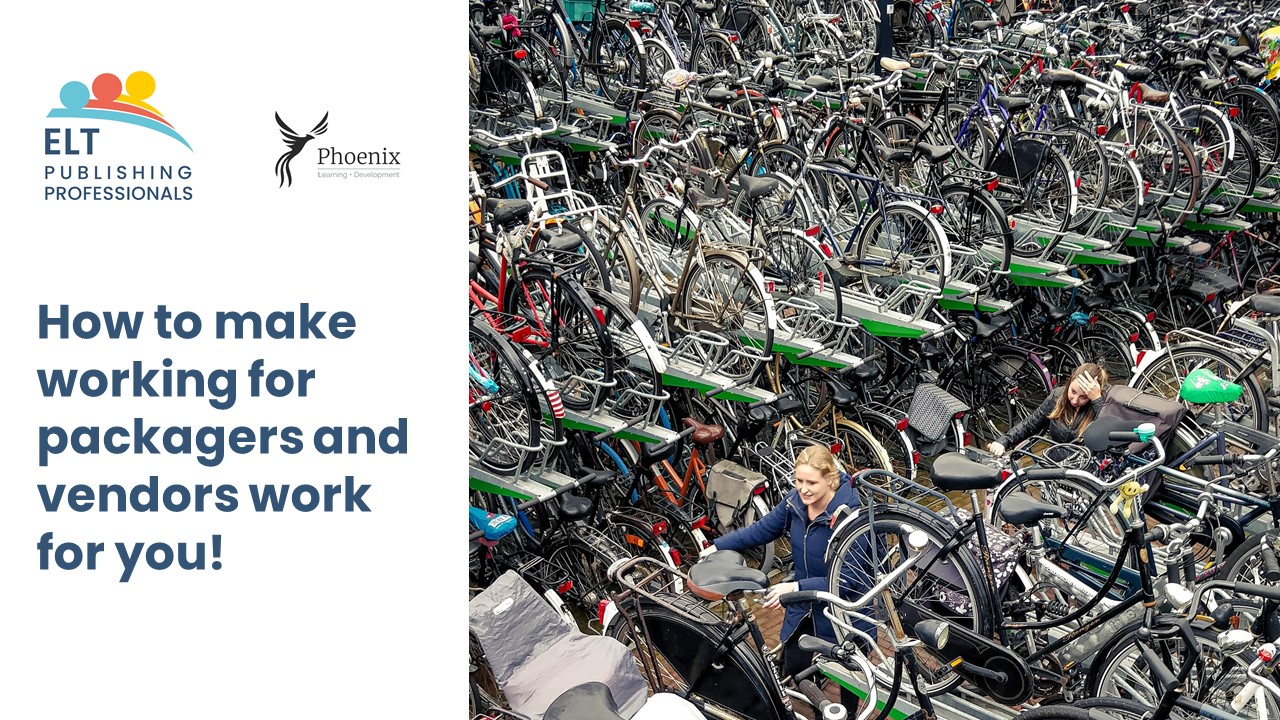 PREVIOUS EVENT: A deeper dive into Avallain Author (8 July 2021)
Following our very successful webinar last year, Avallain and ELTpp are teaming up again to look in more depth at the online authoring tool, Avallain Author. With the proliferation of digital learning, Avallain Author is an essential tool for ELT publishing, used by almost all the major ELT publishers to prepare their digital content. The webinar will give a quick recap of the basics, then demo some more advanced functionality and templates, and also tell you about an exciting opportunity to become a trained and certified Author Professional, ensuring your currency and competitiveness as a freelance ELT editor or author. 
 
Avallain will also be telling us about Avallain Magnet, their new all-in-one authoring and learning management suite for institutions and companies, which will open up new opportunities for digital learning, authoring and editorial services. The Avallain team will be joined by one of the first language training clients for Avallain Magnet, to give you direct insight into how this exciting new solution works in frontline language learning.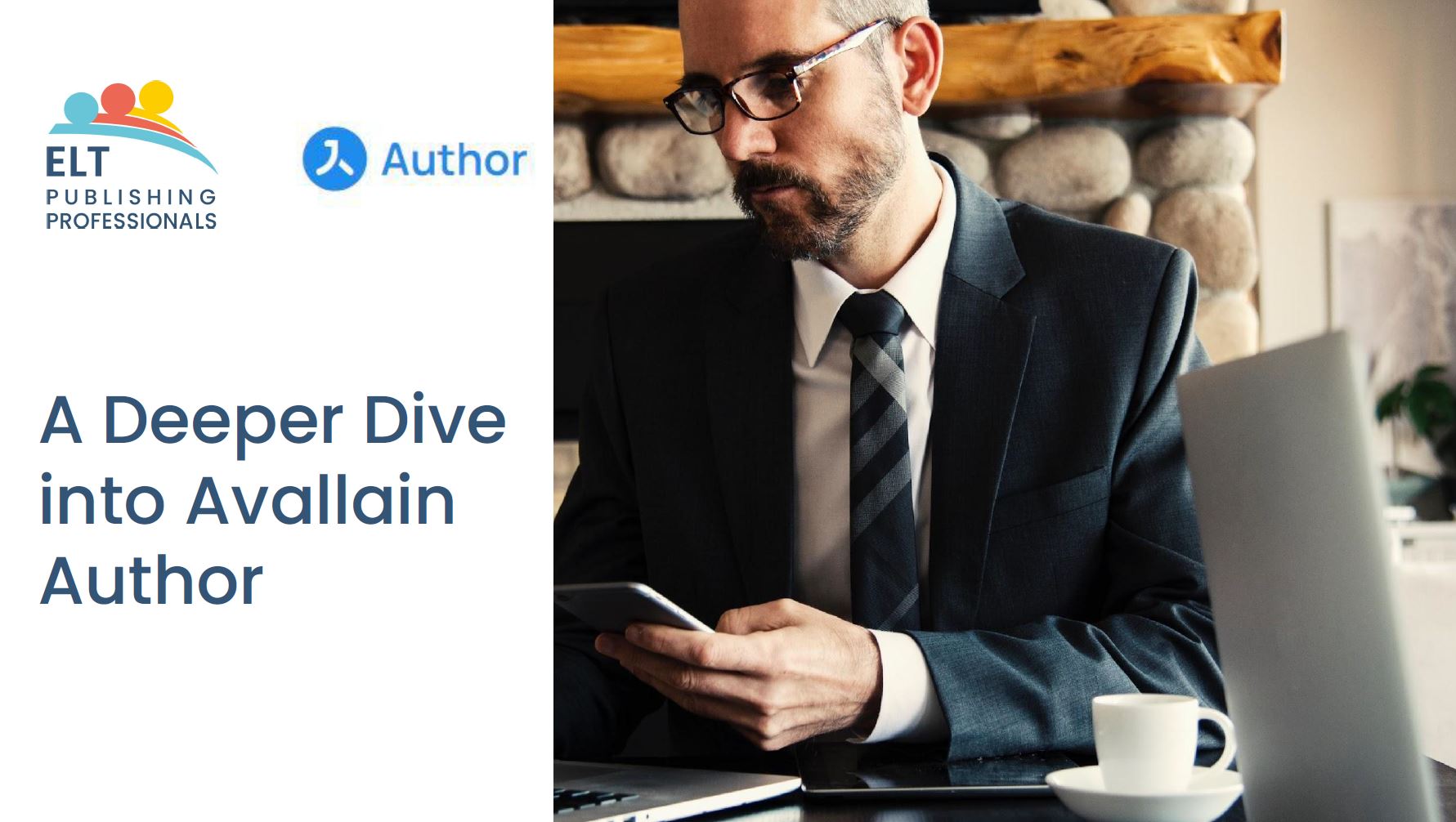 PREVIOUS EVENT: Understanding the grammar of video (27 May 2021)
Does video sometimes feel like a foreign language? As the video element of ELT courses becomes more important, a working knowledge of its grammar and vocabulary is vital for authors, editors and anyone involved in course creation. This session aims to demystify and entertain while providing a survival guide to the basics of video. We aim to understand what video can and can't do in the context of learning English. We will learn from some great movie clips so the session should be fun and as interactive as possible.
Adam Salkeld and Stephen Haggard were producers in BBC documentary and current affairs TV before they founded the award winning ELT video company DLA. We will allow plenty of time for participants to ask questions and to discuss the issues that video raises in the ELT publishing world. Come prepared.
PREVIOUS EVENT: Global Scale of English: at the heart of Pearson's vision for English language learning (25 March 2021)
The Global Scale of English (GSE) is an extension of the CEFR for English, with hundreds more Can Do statements to address the needs of a wider range of learners. Critical to the project has been the development of tools and resources to support teachers and ELT authors in implementing the GSE (and the CEFR) in their day-to-day work. In this presentation, Mike Mayor explored why the GSE was created and looked at the resources that are freely available to support content creation.
On March 8 2021, Andy Bird, the new CEO, flagged the GSE as central to Pearson's future English strategy for both the institutional and direct-to-consumer markets. This session also introduced Pearson's first direct-to-learner service – English.com – and outlined opportunities for freelance authors to get involved.
PREVIOUS EVENT: Moving Courses Online: Five Things to Consider (20 January 2021)
Online learning isn't just a case of moving content from one format to another, or turning a live class or workshop into videos or a series of presentation and practice activities. For us it requires proper consideration of learning principles, the learner and the affordances of the technology being used.
In this session we will:
Give an overview of our methodology for moving in-person / offline content to an online learning platform.

Share tips on how to work successfully on an online project, including questions to ask, things to watch out for and tools to use.
PREVIOUS EVENT: An Introduction to Diversity and Inclusion (24 November 2020)
How can we, as publishing professionals, become more inclusive in the way that we work? With a focus on racial and ethnic inclusivity, this webinar will provide an introduction to evaluating your own mindset, the context for racist practices within publishing, and steps that you can take to challenge and rectify those behaviours. 
Agenda
The terms diversity and inclusion – what do they mean? (referencing the harm created by exclusion/marginalisation)

Marginalised groups (and under-representation as a symptom of marginalisation) – historical context, link to privilege

Privilege

Intersectionality (inc. context and founder of this term)

Tokenism and identity flattening

Equality vs Equity
Focus on racial and ethnic diversity 

Terms e.g. BIPOC and BAME – context and usage

Racism – overt and covert – how our world and culture are organised

Legacy of colonialism on British/ELT publishing – how that affects our publishing practices today (e.g. cultural appropriation, erasure – with examples of text and artwork) 
What can we do? Practical steps to thinking inclusively as a publishing professional.

PRH UK and Ladybird Education initiatives

Understanding and acknowledging our own privilege

Educating ourselves

Committing to thorough research when required

When checking material – text/artwork – what to keep in mind
Further reading/learning suggestions
Speakers
Chimaoge Itabor is currently studying a postgraduate degree in Law. They have been a legal volunteer for the Free Representation Unit, and have worked with charities such as Hestia and Refuge as a domestic violence support worker. Chima is a writer and poet, and has hosted panel events with groups such as BlkSisterhd on abolitionism. They are passionate about community organising, writing, and increasing awareness around white supremacy, colonialism, transphobia and patriarchy.
Kate Heald is Publisher at Ladybird Education, part of Penguin Random House UK. Ladybird Education publishes ELT graded readers for children, teens and adults, as well as home-learning material for first language markets. Penguin Random House UK is committed to making publishing a diverse and inclusive industry, working with partner organisations and individuals, such as Chima, in order to do so. Kate has previously worked at Macmillan Education and Collins Learning.
PREVIOUS EVENT: An Introduction to Avallain Author (23 September 2020)
As more and more teaching and learning goes online, the number of digital components included in ELT courseware is proliferating. Avallain Author is the go-to online authoring tool used by nearly all the major ELT publishers. It offers tools and software to create, maintain and publish interactive content and learning material, and is the world's most flexible and powerful online authoring tool.
Avallain and ELT Publishing Professionals teamed up to bring an introduction to this authoring tool. This hour-long, live webinar was suitable for ELT/educational writers and editors. You can watch the full recording of the live webinar, including the Q&A session, here.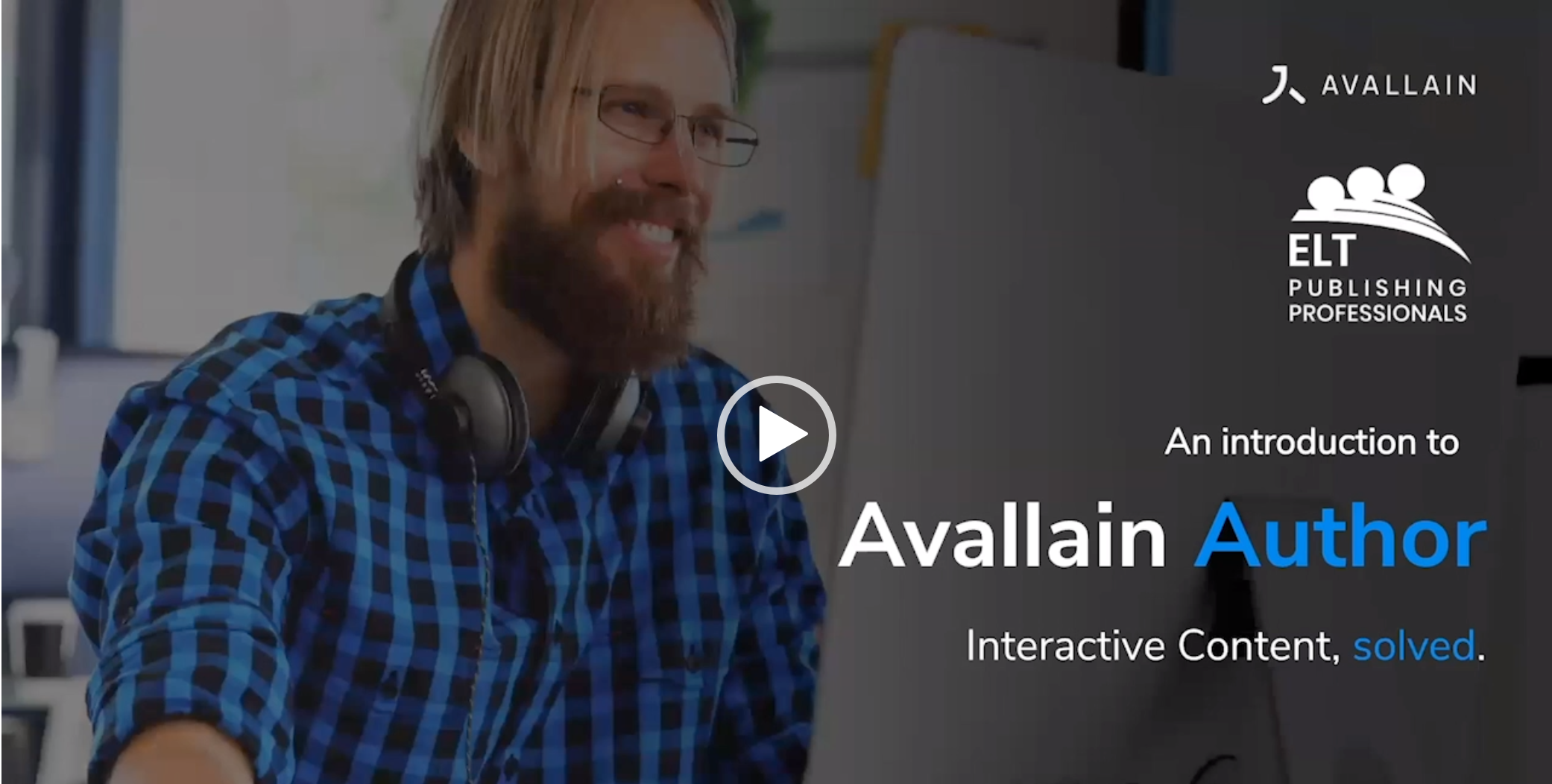 THE CONTINUING PROFESSIONAL DEVELOPMENT (CPD) LIVE EVENTS PROGRAMME
ELT Publishing Professionals' live CPD online events take place every two months and are an opportunity for freelancers and in-house publishing staff to keep their skillset and knowledge up to the minute.
The programme provides training on key issues of the day and the sessions are delivered by industry experts.
The sessions are free for members of the ELT Publishing Professionals directory and cost £20 for non members.
Registration opens two weeks before each event and can be accessed from this page.